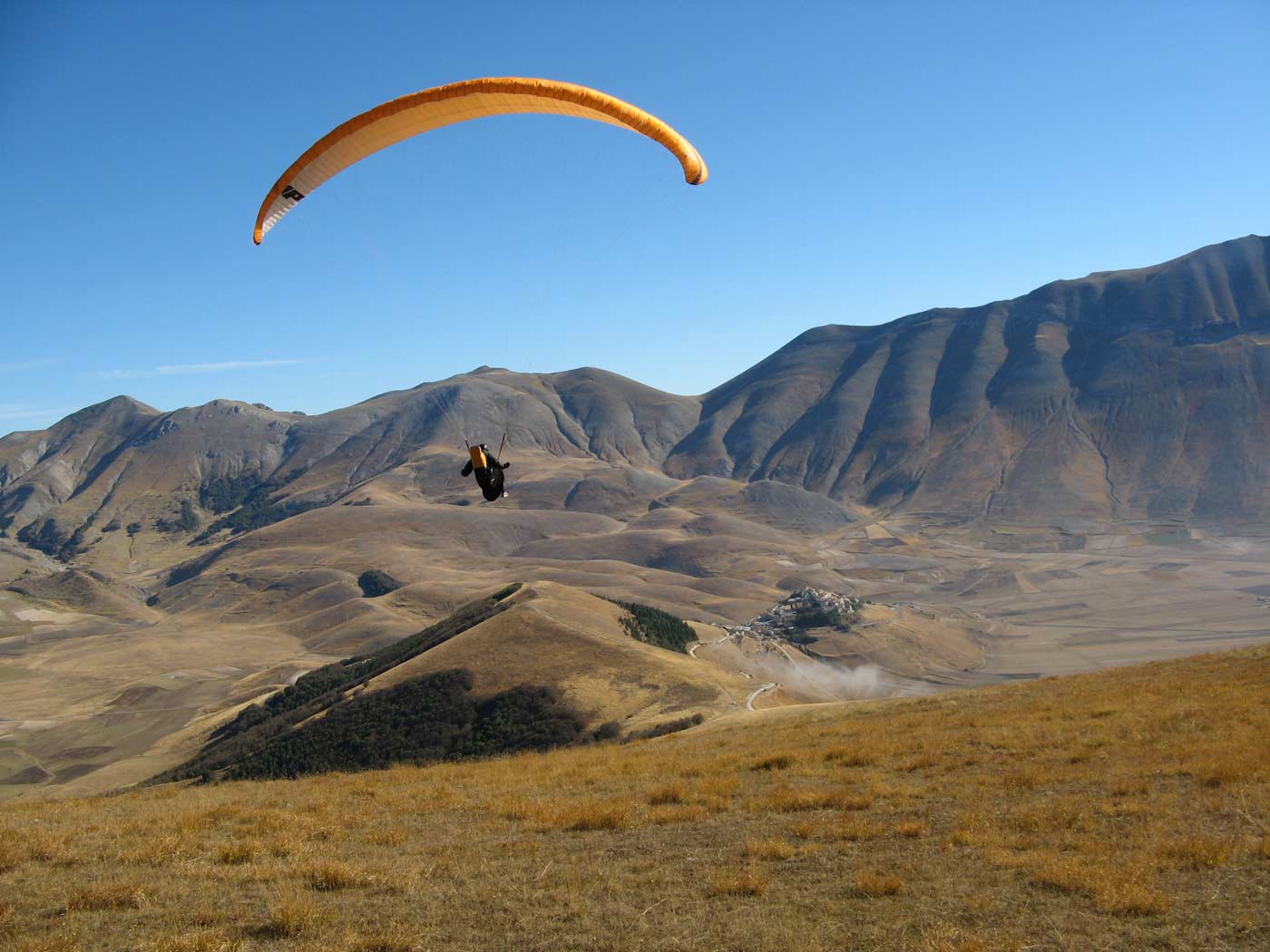 Castelluccio: Flying like the gods
The Umbrian plateau in the Sibillini Alps with the once picturesque, but by the great earthquake in 2016 heavily destroyed village of Castelluccio is a flight paradise beyond compare. La zone presque entièrement déboisée est un immense terrain de jeu de parapente et offre même à l'automne encore beaucoup de chaleur, s'il n'ya que des vols de haut en bas à d'autres endroits.
During our travel time, Italy usually has high-pressure weather and the lows pass north. This means a lot of sunshine, good convection and in the mountains still fluffy clouds, which invites you to paragliding. The thermally active time can then be up to nine hours a day. The nights, on the other hand, are starry and bitterly cold, so that mist reliably forms in the valley of Castelluccio in windless autumn nights.
This morning mist, which continues to enchant the otherwise magical landscape dissolves in the morning. When the dissolution process begins, you can start an impressive fog flight thanks to the obstacle-free and top-level valley floor - something you should not dare to do light-heartedly at home. From the later morning hours until dawn, then the thermally induced local wind systems prevail. Thanks to the bowled shaped landscape you always finds a place to take off and soar with suitable wind speed. In countless places is a top landing or a touch-and-go possible and also for ground handling the whole landscape is virtually unlimited. If you understand the interplay of landscape, wind and thermal, you can fly around the whole valley in one flight, and even extend the activity radius even further ...
The journey lasts nine days, of which eight are intended for free flying within the individual comfort zones of the participants.
Next trip